Long Lan, a village located in the Phu Sung watershed area of Luang Prabang district, Luang Prabang Province, Laos, was originally established by first four H'mong families of the Zang clain in 1975. Long Lan was previously home to the Kho Mu ethnic families who afterwards moved down to live in Kok Van village, lowerland area. Long Lan at present has 78 households with 511 peoples from different clans of the Hmong ethnic such as Zang, Ly, Mua and Ho.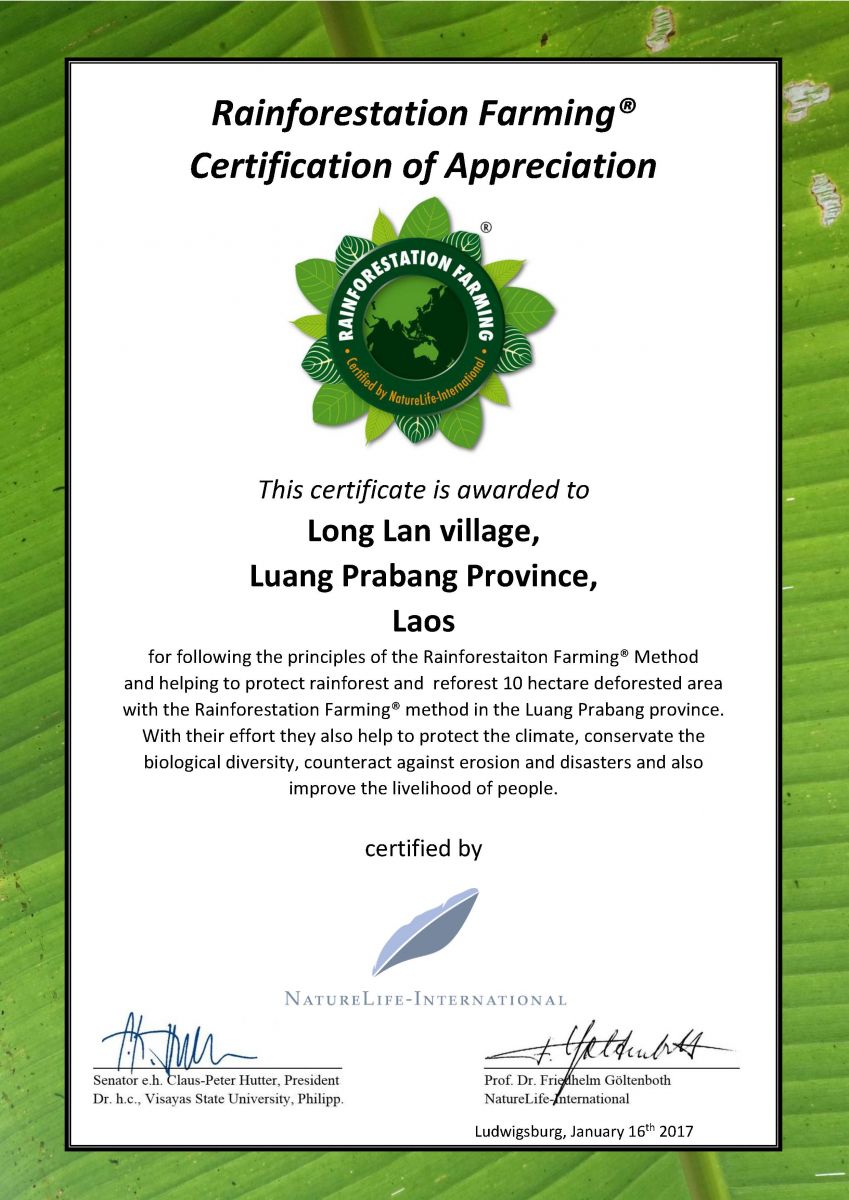 Rainforestation Farming Certification of the Long Lan native eco-products

When one come to Long Lan today, one could hardly imagine the tough live of villagers 20 years ago. The people here have experienced many ups and downs as a consequense of external impacts such as American War, policies in banning opium growing and shifting cultivation without alternatives as well as the influence of the market over the 80 and 90 decades. Long Lan's livelihood has begun to get more stable, prosper and sustainable when its territory over 8,439 hectares of land and natural forest and customary law are recognized by local governments in 2005. The Long Lan territory is characterized by various unique ecological categories such as watershed forest land, spirit and herbal forest land, protected forest land, use forest land, grazing land, agricultural land, etc.). This community based forest land right program was supported by Luang Prabang Provincial of Agriculture and Forestry Office (PAFO), Luang Prabang District of Agriculture and Forestry Office (DAFO), Luang Prabang District People's Committee, assistance of CHESH Lao/SPERI and financial support of ICCO-Netherlands. These titled natural resources of Long Lan are now being sustainably managed and used on the basis of local indigenous knowledge and well-community orgnization with on-going advice of CHESH Lao/SPERI and financial support from ICCO-Netherlands, Brot / BMZ - Germany, CCFD-France and Nature Life-International (NLI).
The sovereignty over the livelihood and cultural spaces is the foundation and motivation for the Long Lan community to untie barriers, overcome challenges to enable initiatives based on specific landscapes, ecosystems, ethnic knowledge, local knowledge, and native species to protect and enrich land and forest resources, and native vegetable farms. Up to now, the 'nature life' of villagers in Long Lan have been confirmed its sustainability and self-autonomy. Elder Xay Khu Zang shared:
"our villagers could find everything essential for ther lives from our natural forest and land areas. In contrast, because of depleted land and forest, people's lives in Long Lan neighbouring villages are very challenging and must be dependent on the outside."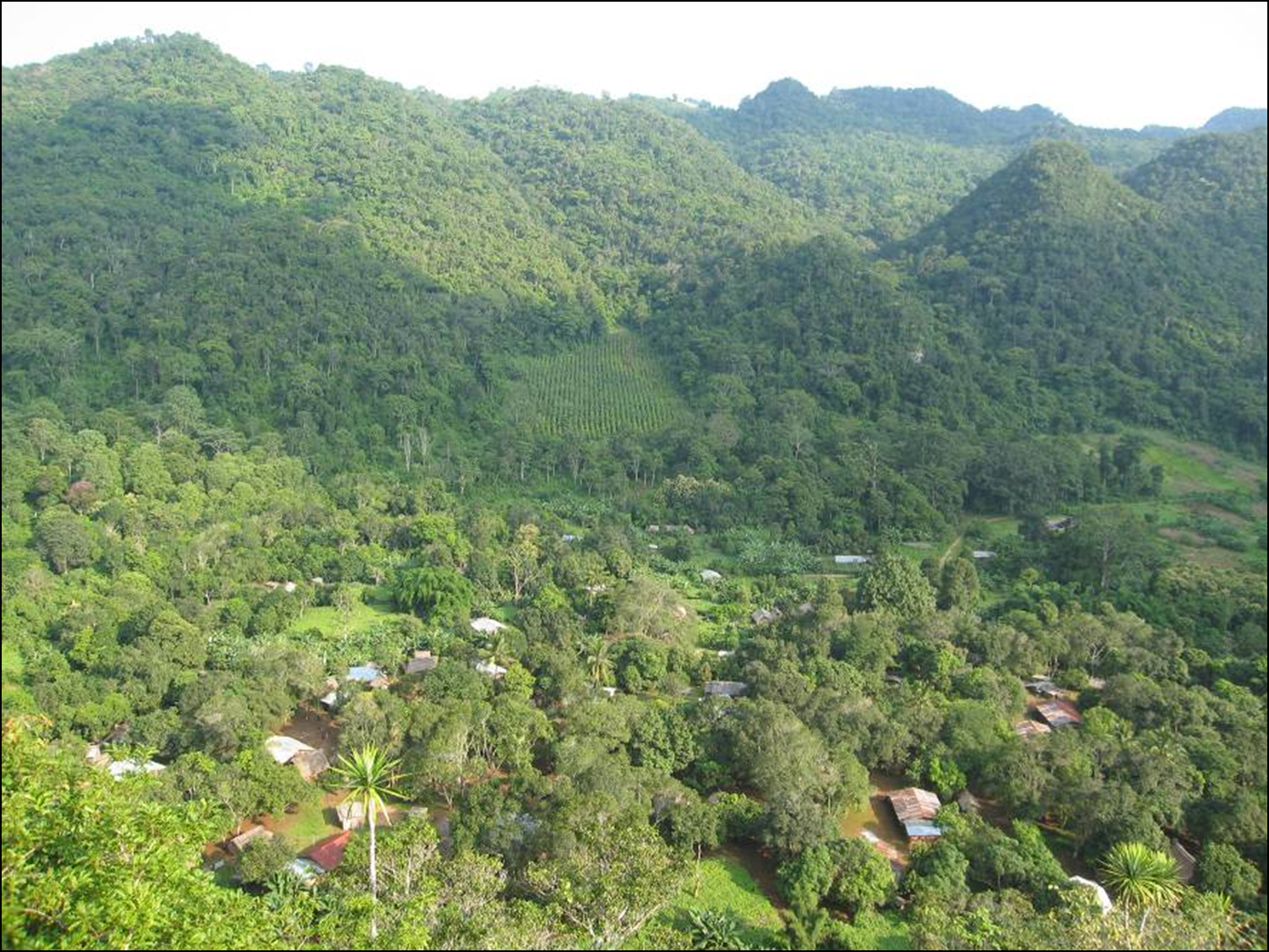 Long Lan village landscape

In addition to the products that are sufficient for the daily life such as vegetables, fruits, chickens, pigs, herbal medicines, etc., families in Long Lan stably earn income from growing and selling native vegetables such as cabbage, beans, dill, chayote, pumpkin, cauliflower, green onion, lettuce, etc. Notably, as villagers shared, they do nothing from soil preparation and sowing until harvesting. They do not have to fertilize because in the abundant forest, when the leaves fall off, after a while they become humus to make soil richer. Because the vegetable farms are located on the high mountains and next to the forest, so the soil and air are always moist. In the morning dew on the vegetable leaves drop onto the soil and is absorbed into the roots, so they do not need to water. As the forest has various trees which are favorable habitat for good insects to control the development and spread of pests, so villagers do not need to use pesticides. In addition, Long Lan villagers have chosen a variety of vegetables which are planted once, but can be harvested multiple times. After each cut of the sprout, it sprouts again. Because of that, Long Lan can produce vegetables throughout 10 months in the year, from February to November, with a very stable yield. On average, in one day the whole village can produce 1-1.5 tons of vegetables to supply to the Luang Prabang market. In addition, the remarkable feature that few people know is that nearly 500 cows owned by families are being raised in two community grazing areas on the Phu Sung Mount year round covered in this diverse ecosystems and harmonious climate.
On 23 March 2017, the native eco-products produced by the H'mong families in Long Lan on fertile land farms with an avarege altitude of over 1,000 meters above sea level, and protected by natural forests were certified by the Nature Life-International (NLI) with a Rainforestation Farming.
The ceremony of Certification of Appreciation of the native eco-products of Long Lan was held at the Long Lan Community Based Farmers' Field School with participation of elders, village head, key farmers and villagers, representatives of PAFO, DAFO, local authorities, head of Kok Van Villages' Cluster, local media, NLI and CHESH Lao / SPERI.
Prof.Dr. Goltenboth handing the Rainforestation Farming Certification to Long Lan village's Chief
Mr. Boun On, Chief of PAFO Office said that certification of the Long Lan native rainforestation farming products is not only great pride for Long Lan, but also entire Luang Prabang district and province. In addition to Luang Prabang being recognized as a World Cultural Heritage Site by UNESCO, local indigenous knowledge, native eco-products and landscapes of Long Lan was the first time honored by NLI. The Long Lan instance on nature-human harmonious life will be the best lesson for local governments to learn and duplicate in other villages. Furthermore, all officials from the Luang Prabang departments will be mobilized to join with Long Lan peoples to bring native seedlings from the Long Lan Community Native Tree Nursery to plant and enrich the forests not only in Long Lan but also other locations in the province.
Asked what is the dream of Long Lan is for the future, Elder Xay Khu Zang wishes his village to have better natural environment, better protected forests and more friends. Mr. Boun On said that in order to achieve this dream, Long Lan should continue and promote its existing values and capitals to be more stable, more sustainable and generate more economic capital in the face of increasingly market challenges. Long Lan will work with the local governments to connect Long Lan with the local existing chain of tourism.
Dr. John Quayle, Chairman of the Indonesian and Australian Rainforest Foundation, shared:
"Long Lan is one of the rare locations which has four vital values at the same time, including natural resource capital, ecological capital, cultural capital and knowledge capital. Long Lan should now promote these capitals in order to generate sustainable eco-economic wealth through a new higher level of center economic development. Long Lan should become an ecotourism-cultural education tourism with tropical forests and herbal medicine preservaton tours (Pro.Dr. Goltenboth's comment). This will help its villagers to get increased income. In return, this aincreased economic value can be reinvested to enrich all other existing capitals of Long Lan."
On behalf of the NLI President Mr.C.P.Hutter, Prof.Dr. Goltenboth shared his impression to the Long Lan progress through three visits to Long Lan. The first time visiting Long Lan, Professor saw the rich and diversity of the forest, especially community herbal medicinal preserve forest, exellent wisdom and understanding of villagers, especially healers in use and preservation of these natural resources. In the second visit, Professor witnessed the establishement of Long Lan Community Based Farmers' Field School where wisdom of Long Lan in ecological farming and forest protection by customary law and statutory law will be unique lessons for other farmers, especially youths to learn. In the third visit, Professor observed thousands of diverse native forest seedlings such as Vai (
Rattan Calameae
), May Xom Phat, May Kha (
Erythrophloem Fordii Oliv Fabaceae
), May Du (
Markhamia stipulata (Wall) Seem
), tea, avocado and so on) collected and nursed by the entire community in the Community Native Tree Nursery. These seedlings will be afterwards planted for enriching the Long Lan forest. The feeling of Professor regarding Long Lan ecosystem is reflected in his comparison of the difference between the voice of birds singing in the natural forest within the boundary to Long Lan and the silence of rubber and teak plantations just a few kilometers away. These areas were previously rich natural forests, and currently replaced by rubber and teak plantations. These mono-planted forests are described by Professor as '
Cemetary of Nature
'. Having traveled extensively around the world, Professor shared that he had found the '
Paradise of Nature
' accompanying a community of rich cultural identity, indigenous knowledge, harmonious 'nature life' right at Long Lan.
Dam Trong Tuan (SPERI)