With an area of over 2,123 square kilometers, Bo Trach district is the largest amongst seven administrative units of Quang Binh province, the full potential of land, forest and sea ... However, the potential is insofar not all. Traffic conditions are not favorable, the uneven distribution of population, the harsh weather ... are factors which make Quang Binh in general, Trach Quang Binh particularly has so far yet promoted fully the strengths of the people and land ...

Ho Chi Minh Highway which is seen a new opportunity of people in remote areas was opened. Especially when the Phong Nha-Ke Bang National Park is a UNESCO World Natural Heritage site, attracting a large number of tourists flock to. Many people who are optimist think that the opportunity to change people's lives in Bo Trach district, Quang Binh is very close ... However, to achieve the that perspective, it still has to go through so many hardships and concerns. Concern of thinking and approach ... that the story of the 'warm hand' woman in Lam Trach commune, Bo Trach district can be seen as an example of such concerned feelings...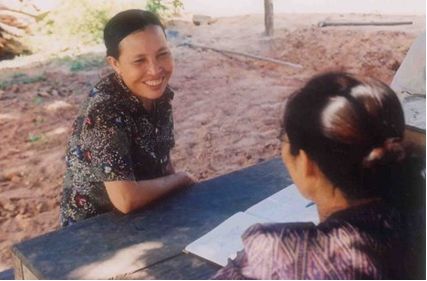 'O Binh' (left) - a key farmer in Lam Trach commune, Bo Trach district, Quang Binh province
Born in a poor and remote farming countryside, being poignant all with the extremes of poverty, Mrs. Tran Thi Binh – who is called by people here with an intimate name as 'O Binh' is the first woman in Lam Trach in finding a way to escape the bondage of habit and inertia of thinking. Started as a cadre of the communal government , a position that many other people, in other places, can be seen as a significant achievement, 'o Binh' bravely resigned to return to work as a real farmer, trying to get rich from her own land, with the hard work and enterprising spirit dare to think and dare to do...

The story begins in 1997, under the project of Center for Indigenous Knowledge Research and Development (CIRD), when the network of key farmers began to be formed from the 13 most difficult communes in mountainous districts of Quang Binh province, including Lam Trach. Through interest clubs in each locality, by approaches which directly come to the peoples, trying to empower them in order to self-identify their difficulties, and challenges, and then enlarge their own roles in the necessary period; the project gradually arouse local peoples the confidence, self-management, self-regulation, and self-responsibility in every activity of the poverty reduction ...

'O Binh' is one of the first two members of Lam Trach commune participated in this program. After a series of study tours and exchanging experiences, found in many other places with her question, that is, why their land and gardens like us, they could make a large of pig farm. Apparently, raising pigs would be a suitable work for my family circumstances as well as many other famers in my homeland. Then, 'O Binh' has invested in making a pig farm. Said investment is generally so, but with people like 'O Binh', after many years working in the commune, to save a bit of money to buy a few pigs are not too difficult. Garden is there, cutting some trees and cleaning out some land for making pig cages in a way she learnt is not so difficult. If the experience in livestock is not sufficient, it would be enriched via doing and learning... But, the difficulty here is time. She both has to work as an official and take care of the home; so, it is manageable with a few pigs. Piglets like kids. They would get angry, if they are not fed on time. Then, they could get sick, if they do not get clean; while she has to be responsible to her duties for the public work. So, how to make the balance! Social work, such as 'the bowl', we do not work much but never have to worry about social wage; while raising pigs, such as 'the tray', we could earn much, but in case of risk, everything would be gone. Select 'the bowl' or 'tray'? ...Perhaps, it must be in the context of the family of Mrs. Binh in those days, with the headache in every morning watching the wings hovering over the village fields after harvest, with the afternoon suddenly stop sewing the shirt; then some overnight dizzy as discussion and calculation together ... may see all the difficulties of choice. - "how it would be if I leave the work in the commune?" - "If we do not do, how can we know!" ... and finally, 'Man' meaning 'do' in the local accent is a decision of the family of 'O Binh'.

The story of 'Man' happened so hard at the beginning. It is thought simply that the process of pig-raise is completed after a pig is sold. However, it is sometime hard to sell if the pig gets too fat. After that, the owners have to choose and buy other breeds from different markets... and then they select suitable foodstuff for pigs. They are available in the feed store. Pigs could grow up quick when eating such types of food. However, the meat is not tasty; the sale price is not very good. Perhaps, the money and effort after a few months invested would be thrown away... But, just to rub with all things related to the "outputs" of such pigs, one could mature quickly.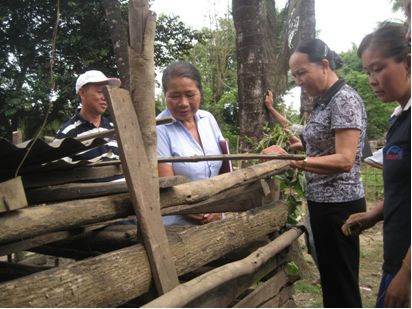 O Binh' (flower shirt) shares experiences in raising pigs with villagers in Phon Sa Vat village, Luang Prabang province, Laos in the study tour

Producing a pig also means that farmers have begun to step into the market economy with full of surprise that the stories mentioned above are just only introductory lessons. Have had experiences from felling down and loosing, ones would stand up firmly, and then make their own ways. 'O Binh' had a long time of gradually moving from raising pigs for meat to producing piglets, then try processing food for pigs from local materials. Day by day, by diligence, hard work inherent in Quang Binh woman, endowed with the "warm hand", so the pig farm of 'O Binh' has quickly expanded. Currently, there are always around 200 pigs waiting for sale. Almost every day, mother pigs breed in piglets...

With the start of raising chickens and pigs to forming a livestock farm, shifting from raising pigs for meat to supply the market to focusing on sows to actively supply piglets, not only for herself but also for women in the group as well as farmers in the commune, even pigs become a "invested capital" to share among each other for the life-changing dream; from depending on industrial food to self-producing local available resources based food; from small scale production to supporting each other altogether developed... By the acumen thinking of an entrepreneur to needs of the market, the path of 'O Binh' particular and women in Lam Trach in general after more than 10 years has gone to great lengths ... This story, if looked at from an economic perspective, some people will say that is sharp of a proactive, creative entrepreneur in production and business. In another aspect, the specific words of the old man, 'cái khó làm ló cái khôn', meaning the wise would be arisen from the difficulty. But, my own thinking, that perhaps in order to so, it comes mainly from the character of people in Quang Binh. During the war time, they were strong-willed and courageous to become the winner; now in the market economy, they also do not allow the market to control them, on the contrary, they must be the driver of the market ...
*

Everyone may know that in business economy, the capital is one of the critical factors to success. Yet, with women in Lam Hoa commune, a commune in the particularly difficult area, under the 135 program of the government for poverty alleviation, the difficulty really binds the wise! The opportunity to gain access to capital sources supported by the government so far is almost limited. 'O Binh' has to many times go on the road longer than 50 km from the commune to approach the Social Bank of the district... The policy is always has its principles; but the most important of those working in credit is trust. Ultimately, with the results achieved from her livestock, currently 'O Binh' can easily access to new capital. In other words, what the 'warm hand' woman achieved has contributed to changing the her position in particular, women's, farmers Lam Trach commune in general under the view received and reviewed by many people, several agencies and levels of authorities...

Dare to think and do, as well dare to be responsible to oneself and community to enrich the family and society, contributing to change the image of the farmer in society, 'O Binh' may not know that until now, her property is not only the full potential livestock, with a capital of a few hundred million Dong or a forest garden is waited for its harvest. Furthermore, that is experience drawn from reality. Something worth mentioned here is social capital created by this woman. The capital is being obtained from saving which is shared with every body ...

*

Now coming to the land of Quang Binh, anybody can easily find in the picture of diversity of development with many appropriate highlights. Of that, many of them have been created by the Quang Binh Key Farmer's Network. A garden rose from bombs, a farm is bustling and prosperous or simply is a warm house with full of laugh ... However, hidden behind all, it is a freshness of the people's love. All these things can be completely seen as a result of the perfect combination between potential of Quang Binh farmers with new opportunities they are having ...

And the results of today is also the promise of tomorrow ..

Luong Ngoc An