On 8 October 2015 a conference on "customary based Phu Sung watershed co-management" was organized in Long Lan village, Luang Prabang province. The aim of the conference is to resolve conflicts in protection forest co-governance based on customary law that has been legalized in the process of forest and land allocation facilitated by CHESH Lao since 2005. Present at the conference were over 100 participants representing 13 villages from Phu Sung area who have been co-benefiting from 1,100 ha of forest allocated to Long Lan village by the authorities for customary based protection; local authorities of Phon Xay and Luang Prabang districts; provincial police and army forces, regional special task force, Elder Council and Youth Union…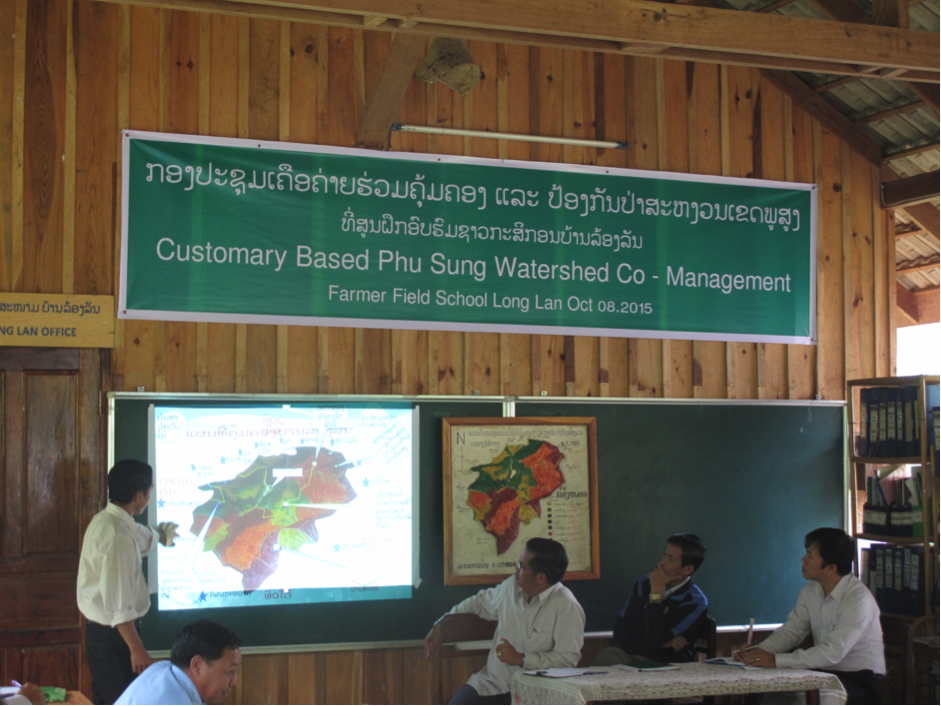 With the active involvement and hard working of 13 village heads from Phon Xay and Luang Prabang districts, regional heads from 13 villages in Phu Sung area, officials from Luang Prabang and Phon Xay district authorities, deputy director of Luang Prabang Agro-forestry Department, provincial police and army forces in charge of Phu Sung area, and under the leadership of Luang Prabang provincial and Phon Xay district authorities, historical issues and conflicts related to serious damage of Phu Sung watershed forest since 2005 have been gradually addressed and discussed openly. Solutions to these issues have finally been agreed in forms of legal documents. Accordingly, the following conclusions have been made at the conference:
Participants have unanimously agreed that Long Lan's regulations on watershed forest co-governance that have been operated since 2005 should be strengthened and applied widely to all 13 villages of Phu Sung region;
Long Lan's regulations should be informed to every villager from 13 villages by regional heads in forms of manuals;
Regional heads and village heads of 13 villages should use the Long Lan's regulations as a legal basis in resolution of violations in their villages;
Guns must be confiscated from 13 villages. An estimated total of 2,000 guns is expected to be voluntarily given back to the functional agencies in the near future;
A visiting regulation for visitors to/from Long Lan village has strongly been supported by the Luang Prabang provincial and district authorities.
The "Young forest protection network in Phu Sung" covering 13 villages, which has been established on 13 August 2013 facilitated by CHESH Lao, should be further strengthened and supported.
These conclusions have been resulted from a people-based process of listening and understanding to further respect and promote their internal strengths, the firm foundation of which is built based on Long Lan's customary law on forest co-governance and protection over Phu Sung area.
"All difficulties will be overcome if people are united and their concerns are shared by the local authorities" - Elder Xay Khu Zang reiterated.
Before the conference, a project team from the Center for Sustainable Rural Development (SRD), Phu Luong district, Thai Nguyen province (Vietnam) took a study tour to Luang Prabang province. After coming back, SA manager Dao Duc Liem did sent an email to attention of Tran Thi Lanh, founder of SPERI. He wrote:
"2015-10-02 9.45 GMT + 07:00
Dear Mrs. Tran Thi Lanh,
On behalf of the Center for Sustainable Rural Development (SRD), I would like to thank you and your staff for supporting us during our study tour to Luang Prabang. After coming back, I did receive many telephone calls from communal and district officials who also took the tour and would like to convey their sincere thanks to SPERI and you personally. They disclosed that they had learnt a lot from the study tour to Long Lan village. And now they have deeply understood the important role of forest protection that would enable them to live well and more meaningfully with their own cultural identity. Currently, I am looking forward to receiving the next plans from the project communes and districts to see how their awareness and understanding have been changed. Obviously, Long Lan model in forest protection has provided a good example of the community based sustainable forest protection. Once again, on behalf of the team and people from Phu Luong district, Thai Nguyen province, we would like to thank you, your staff and Long Lan villagers for everything you have done so far.
With kind regards,
Dao Duc Liem
Center for Sustainable Rural Development (SRD)
SA Manager. Mobile: 84 98 3394893"

CHESH Lao expects that in the near future more people will come to visit Long Lan to share and to be on the same boat with the village in the course of forest protection. Being a historic village of Hmong minority in the resistance war against American invaders, a confident and self-reliant in the national renovation and strengthening of grass-root authorities, Long Lan, under the guidelines of the Resolution 09 of the Communist Party of Lao PDR, has become a reliable address, a good model of perfect matching between guidelines of the Communist Party and people's wishes and aspiration that should be further replicated, especially in the context of crisis in livelihood and lifestyle in the modern society.
Unfortunately, no representative from the Kuang Si area attended the conference since the conference date was coincided with the ritual ceremony of Natural Spirit in Kuang Si. Hopefully, a similar meeting will be also held in the Kuang Si area in the near future on the basis of the customary law of the Lao Lum and Khmu minorities, who have been persistently nurturing and protecting the Kuang Si watershed forest. "I am so impressed by the saying 'A strategy connecting Phu Sung and Kuang Si areas is likely to be of Yin and Yang that encourage people to work together in order to protect the watershed forest, making Kuang Si - Mother Waterfalls happy'. We fully support this approach" – an official happily said.
Tran Thi Lanh